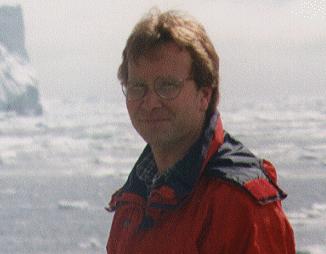 Welcome !!
To Mr. Steve's Information Page

Background
About Steven Stevenoski
Science Teacher at Lincoln High School
Wisconsin Rapids, WI
email - ssteven@wctc.net
Send mail to Steven Stevenoski Professional Highlights
Gustov Ohaus Award - 1996, for innovative Secondary Science teaching methods.
Microsoft/Technology Learning Award - 1996, for innovative use of technology in the science classroom.
Teachers Experiencing Antarctica (TEA) - One of four teachers selected nationally in 1995 by the National Science Foundation to participate in polar research in Antarctica.
Selected to participate in the Wisconsin Academy Staff Development Initiative (WASDI) project.
Wisconsin Finalist 1994 Presidential Award for Excellence in Science and Mathematics Education
Gifted and Talented Coordinator grades K - 12, Mercer Public Schools
Secondary Education Certification: Life Science, Physical Science, Biology, Chemistry, Physics, General Science.
Teaching Experience
Lincoln High School, Wisconsin Rapids, WI 9/94 - present
Science Teacher: Currently teach High School General and Intensive Chemistry, and Physics.
Mercer High School, Mercer, WI 9/87 - 6/94
Science Teacher: Taught Junior High Life and Physical Science. Taught Senior High Earth Science, Biology, Chemistry, Advanced Biology, and Physics. Responsible for department budget and curriculum.
Upward Bound: UW-Stevens Point, Stevens Point, WI 1984 - 8/87
Assistant Director: Worked with primarily low income, minority at-risk students in an effort to prepare these students for post secondary study. These students were admitted to the programs at the request of their school districts to provide them with an alternative summer educational program to help them develop their academic potential.
Hango College, Eua, Tonga 1982-84
Peace Corps Volunteer: Taught science, mathematics and veterinary science at the Junior College level in the Tongan language.
Education
Graduate:
University of Wisconsin - River Falls 1989 - present
Participant in a National Science Foundation graduate program in Physics. Working toward an MST in Physics.
University of Wisconsin - Stevens Point 1984 - 1988
Graduate level study in Biology and Education toward Secondary Level Science Certification. Completion of thirty two credits in Chemistry for equivalent of an undergraduate major.

Undergraduate:
Saint John's University, Collegeville, MN. 1978 - 1982
B.S. in Biology with a concentration in Biochemistry. Minors in Chemistry and Philosophy.
Continuing:
Wisconsin Academy of Science, Madison, WI Summer 1993
One of twenty participants in the second year of a three year grant project entitled: Earth Science Resource Associates (ESRA), to prepare selected secondary level Earth Science Teachers to serve as state and area wide resource persons for other Earth Science Teachers.

Professional Activities
Advisor: Science Olympiad Team (1994 - present) Mercer National Honor Society, Mercer School Environmental Club, Letter M Club, Seventh Grade Class (1987 - 1994)
Athletic Coach: Boys and Girls Cross Country , Girls Track, Girls Basketball
Member: Wisconsin Academy of Science Arts and Letters, Wisconsin Elementary and Middle Level Science Teachers, Wisconsin Society of Science Teachers, Bionet, Wisconsin Track Coaches Association
Leadership positions, ...
Facilitator - Wisconsin Project WILD and Project Learning Tree:
- Provide inservices and training for primary and secondary level teachers.
- Instruct teachers in methods and strategies for teaching environmental curricula.
Listed by the Wisconsin DNR as a resource person and speaker on school and community recycling.