Question 17:        www.flatheadrulechange.com        Question 18:
            Passed                                                                         Passed
Since 1999, the Wisconsin DNR has been studying the flathead catfish population in the Lake Winnebago System, more specifically, the primary fisheries which are located in the Upper Fox River and the Wolf River. The findings suggest that the flathead populations have been and continue to be overharvested. The DNR has proposed two rule changes designed to improve the overall abundance of flatheads while also managing the trophy potential of the fishery.
On Monday, April 14, there were 72 public hearings, one in each county starting at 7:00 p.m. where individuals interested in natural resources management have an opportunity to provide their input by non-binding vote and testimony to the Department of Natural Resources, Natural Resources Board and the Conservation Congress on proposed hunting and fishing rule changes and advisory questions.
According the DNR website's results:
Question 17 passed with 2392 votes for and 1341 votes against.
Question 18 passed with 2161 votes for and 1558 votes against.
<![if !vml]>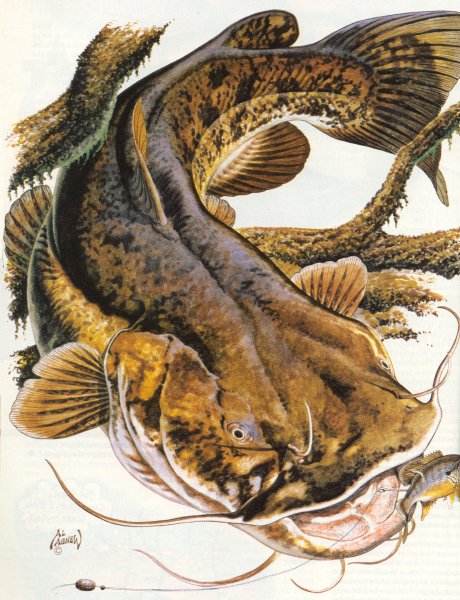 <![endif]>
Flathead Regulation Change Proposal Summary
Spring Hearings 2008 - Questions 17 and 18: Flathead catfish rule changes in the Lake Winnebago system
Full 2008 Spring Questionnaire
List of meeting locations for each county
Below I've included a chart that was produced from a recent DNR computer model of the Wolf River. It shows the huge impact the current harvest rates are having on the fishery. This 30% harvest rate is based solely on the data collected from setline and bankpole fishermen via harvest report surveys. Look at how a relatively small number of people can affect the flathead population that belongs to all Wisconsin anglers. And keep in mind, this harvest rate is most likely underestimated due to a large proportion of non-returned harvest reports from the setline and bankpole anglers along with the unknown rod and reel harvest rate.
Harvest data from volunteer setline cooperators indicate that the size of fish harvested was generally 33 inches (about 18 pounds) and larger. Based on setline questionnaires and cooperator data it appears setline anglers show a strong preponderance to harvest larger flatheads. This data agrees with DNR hoop net catch results that show a huge drop off in the population over about 11 years old. A 30 year lifespan is quite possible on this system but the data suggests that most of the flatheads are being harvested by humans once they reach 10-12 years old.
This chart shows the potential huge increase in biomass in the older age groups if harvest rates are reduced. This would mean more large fish would be available to everyone.
For reference, sample data shows that
  9 year old flathead should be around 30 inches and 14 pounds
14 year old flathead should be around 35 inches and 25 pounds
18 year old flathead should be around 40 inches and 42 pounds
24 year old flathead should be around 45 inches and 50 pounds
There could be, should be twice as many 15 pound flatheads and 10 times as many 20+ pound flatheads in the river. The setline is a very, very effective tool for harvesting big flathead catfish. Think of the outrage that would occur if some other, more popular top predators such as Musky, were allowed to be removed from a system at such rates with a similar method!!
<![if !vml]>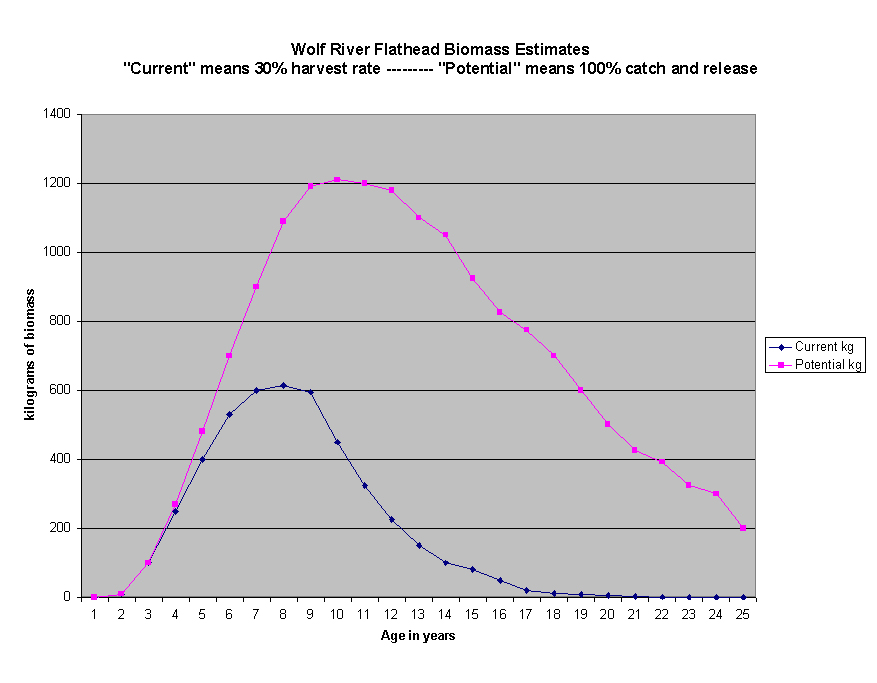 <![endif]>