137 KB - November 12, 2015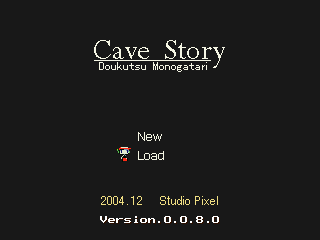 About the patch:
Cave Story is a fun little freeware Japanese game.
An English translation patch was created by AGTP for the PC version of the game. A Macintosh version of the game was created, but the PC-patching application didn't work with it, so it required manual patching.
This is an automatic Macintosh version of the patch which will also translate the room location names, which the manual method did not do.
With the release of version 0.0.8 of Cave Story, the patch needed to be updated as well. This patch no longer works with older versions of the application. If you have version 0.0.7 of the application which you need to patch, that version of the patch is available here. If you still need to patch 0.0.6 for some reason, that patch is available here.
Applying the patch: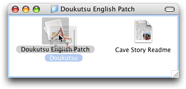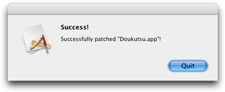 If you haven't already downloaded Cave Story,
download it from Nakiwo's site
(it's the link right underneath the first screenshot on that page) and copy it off the disk image to wherever you want to keep it.
Next, download the Macintosh patch. The archive includes an application called "Doukutsu English Patch". Drop the Doukutsu application onto the patcher. After a brief pause, you should be informed that the application has been patched successfully. Open Doukutsu and wait for the main screen to come up. It should look something like the screenshot at the top of this page.
Note that if you have patched or modified your copy of Cave Story using any method, you will need to start over with a fresh, unmodified copy of the application before you can patch it.
The patch should work on 10.8 and up, and won't work on earlier versions of Mac OS X. (The old patches linked above will work on 10.4 and later.)
Update - January 2, 2017
I am sorry to say that I am no longer able to maintain and support the Mac version of this patch! Thanks for all the fun over the years.